Miniaturization & Ultra-Thin Technology
Features
Rigid-flex printed circuit boards
Rigid-flex circuit boards are compositional layered boards combining the accessory-loading capabilities of rigid printed circuit boards with the bendability of flexible printed circuit boards. The rigid properties lead to a decreased number of printed circuit board points, meaning that the finished product can be miniaturized, while with the flexible printed circuit board, the soldering stage is skipped and less space is needed for mounting. As is the case with conventional boards, the noise produced by the vibration of the antenna and connecting part of the flexible portion are mitigated. Moreover, total costs are also decreased, including those costs incidental to connector cable accessories and accompanying inspection costs.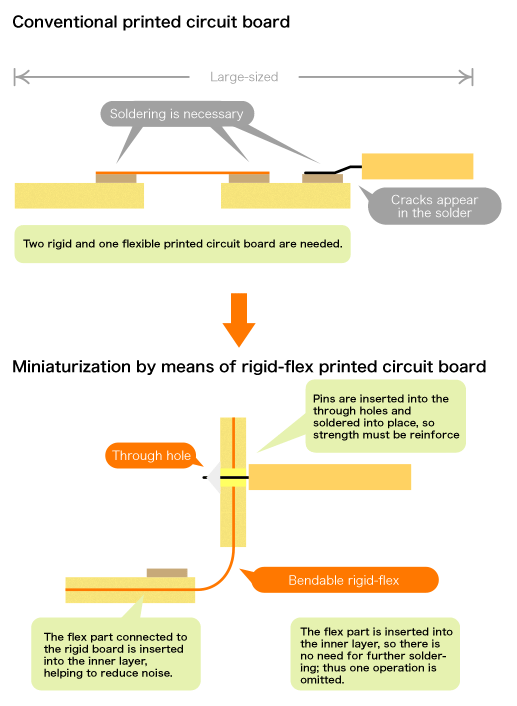 Thin printed circuit board
Putting its wealth of know-how related to thin circuit board production to work, Satosen provides an ultra-thin printed circuit board for LED implementation of chips that have a height of 0.4 mm or more. Machining of the slit portion – which could not previously be processed by conventional router – is accomplished thought the use of an ultra-precise die, contributing to high quality at low cost.
Semi-circular through hole
Dicing the through hole and machining with router and press results in a semi-circular through hole on the edge, leading to a more space-saving installation. Furthermore, high-quality semi-circular machining and surface treatment technology assures a burrless semi-circular through hole.
The miniaturized printed circuit board is split up by an ultra-thin blade without any burrs being produced.